If not Drupal 8/9 then Backdrop - Upgrade your Drupal 7 website with AltaGrade!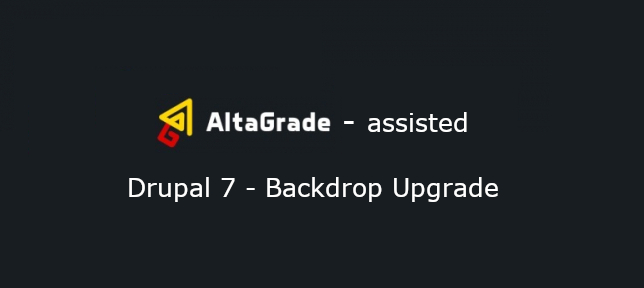 Since its official release on January 5, 2011 for many years Drupal 7 had been the content management system of choice for the majority of the web-projects hosted on AltaGrade platform. However, the picture has been gradually changing after Drupal 7's end-of-life was announced to take place sometime in November 2021 with growing number of Drupal 8, Wordpress, Backdrop or other types of websites coming instead.
The statistical data for the transition of the websites on AltaGrade hosting platform show that while some larger projects - usually those backed up with solid corporate or organizational budgets - are actively upgrading to Drupal 8/9, the larger number of websites for small and medium businesses are switching to Wordpress or other frameworks, thus completely leaving the Drupal realm. And that's mainly because of comparatively higher costs of upgrading to and maintaining Drupal 8/9 sites. At the same time, the rest of the undecided AltaGrade customers regularly contact us seeking our recommendation of CMS to upgrade for their existing Drupal 7 websites.
So instead of privately consulting each such customer, we decided to outline our stance as a hosting vendor in the light of upcoming Drupal 7's end-of-life in this blog entry.
Upgrade to Drupal 8/9
After Drupal 8 was released on November 19, 2015 the fundamental architectural changes decided by core developers (but not necessarily closely tracked by most of Drupal community members) initially caused shockwaves of confusion across the Drupal ecosystem and created a difficult and costly upgrade path. However, with the growing number of Drupal developers adopting and embracing the Symfony framework, Composer dependency manager, Twig theme engine and Object-Oriented Programming concepts, the costs have been gradually coming down, making Drupal 8/9 available to the wider community of users.
From hosting vendor's standpoint AltaGrade does and, of course, will always do support Drupal 8/9. In fact, alongside with such useful backend components and features as Varnish server, Memcache, Apache Solr, GIT, Let's Encrypt certificates, powerful and intuitive control panel with one-click Drupal 8/9 setup, automatic Drupal core and core module updates, all AltaGrade servers also come with globally installed Drush Launcher, which in its turn allows to run different versions of Drush on per project basis.
Therefore, staying assured that as your hosting provider AltaGrade has your back on all kinds of security matters and server-side and platform issues, you could try to find a suitable Drupal agency or hire AltaGrade to discuss a possible upgrade of your website to Drupal 8/9.
Upgrade to Backdrop
However, if you have a constrained budget that won't afford upgrading to Drupal 8/9, or if you find all those new concepts around Drupal 8/9 - Symfony, Composer, Twig, OOP - too confusing and difficult to harness, or if you simply like and are comfortable with old familiar Drupal 7 ways of doing things and gladly would stay if it's supported and kept secure for many years to come, then you should definitely consider switching to Backdrop.
Backdrop is a content management system which can be used when designing an endless variety of websites from very complex enterprise portals, intricate, multi-role e-commerce sites to a single administrator's personal blog site. It is the perfect fit for comprehensive non-profit, educational, corporate, or government websites. Basically anything that was built on Drupal 7 is now possible to easily re-create on or to upgrade to Backdrop.
Here are some more features of Backdrop CMS:
Backdrop keeps API changes to a minimum in order to maintain backward compatibility and to provide easy upgrade path for existing sites.
Backdrop's structure is simple, in most part Drupal 7 alike, easy to learn even for those with a minimal amount of technical knowledge.
Backdrop can be easily extended with large number of contributed modules listed on https://github.com/backdrop-contrib. Most popular Drupal modules have already been ported to Backdrop.
Providing great performance, Backdrop at the same time has really low system requirements, which means you could possibly downgrade your AltaGrade hosting plan to cut costs.
If you are still undecided on what to do with your Drupal 7 website(s), then please note you still have time as the Drupal community will support Drupal 7 until November 2021. However, even when Drupal 7 reaches its EOL, there will be extended commercial support for a minimum of three additional years, ensuring Drupal 7 will be supported for at least five more years, or until 2024. With that said, we recommend beginning the upgrade process as early as possible to ensure plenty of time to prepare and plan.
If, on other hand, you are strongly considering to switch to Backdrop, but not sure where to start, then let us know by creating a ticket on https://my.altagrade.com and we will evaluate your Drupal 7 project to draft more specific plan on how you could upgrade to Backdrop. AltaGrade has your back for upgrading your Drupal 7 to Backdrop. And that's even if your organization does not have in-house tech-support or development team to co-ordinate with us the upgrade process: We will get your website running on Backdrop and you will absolutely love it!