Updated: Finalizing migration from Drupion to AltaGrade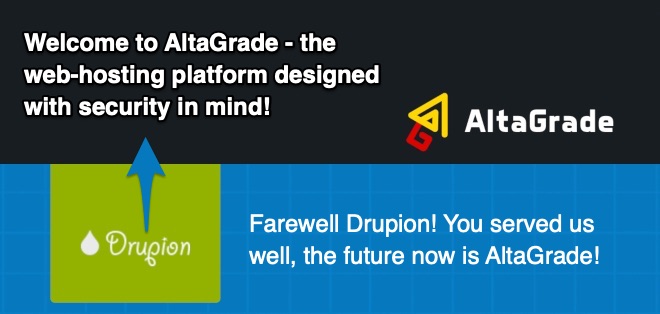 Update of June 5, 2019: We have to re-send this newsletter once again, because when contacted about migration some customers reported they didn't receive previous notifications about Drupion-AltaGrade transformation.
We have verified that in such cases our notifications mostly ended up in customers' spam boxes. While on our end we are trying to improve the deliverability of our mails, we ask you to kindly mark e-mails coming from AltaGrade servers as Not spam and add the following e-mail addresses to your contacts:

As our customers know from the November 24, 2018 blog post, we have changed the name of our company, our website's domain name and our ticketing and billing backend system.
Since then we have slowly been migrating our Drupion customers to the new system according to the timetable published on https://www.altagrade.com/blog/timetable-migration-altagrade. As you can see we are falling quite behind the announced schedule for various reasons, not all of which depend on the discretion of AltaGrade team, but rather on some customers' specific considerations or their company policies.
Until today we had been working on one customer profile migration at a time basis, scrupulously communicating all the differences between two systems, listening to customers' feedbacks and questions, and addressing most of their pre-migration concerns. And during such deliberate and careful process, we've learned that some of our customers preferred to continue maintaining their full root access as their organizations' workflow had already been well integrated to the existing Drupion infrastructure. Some other customers requested more time to fully understand the implications of incoming changes and to get prepared for migration.
Respecting such of our customers' right to maintain status quo, we have decided to migrate Drupion customers to the new AltaGrade ticketing and billing backend system separating them into two categories:
a) those who accept new AltaGrade terms and switch for better pricing;
b) those who decide for some or indefinite time to maintain their Drupion servers and current subscriptions intact.
In order to finalize the closure of Drupion Dashboard by the end of June, 2019, we will be actively migrating all the remaining Drupion accounts as type b) customers, so all customers could start using new ticketing and billing system at https://my.altagrade.com, with a possibility to become type a) customers any time they are ready.
All the overlapping days paid both on Drupion and AltaGrade subscriptions will be duly refunded, so no loss for customers from billing perspective. There will be no much change for type b) customers in receiving technical support perspective either except that they will start using AltaGrade Dashboard - much better, enhanced and superior customer servicing system than we had on Drupion.
When you are ready to switch to type a) customer just let us know by creating a new ticket and we will promptly make necessary adjustments on your AltaGrade account. Please note that unlike on Drupion you can file unlimited number of tickets on AltaGrade without any charge.