Learn how to manage your user profile, gravatar, multiple e-mail addresses, home page, invoices, credit cards, gratitude and compensation credits and SSH public keys.
Clicking on the Account tab opens a page with the following several sections: Profile, Billing, Credits, SSH Keys.

Profile
On the Profile page you can set number of important personal user settings.
First and Last Names
Please provide your real first and last names as they are used throughout the platform, when communicating via e-mails and sending occasional tokens.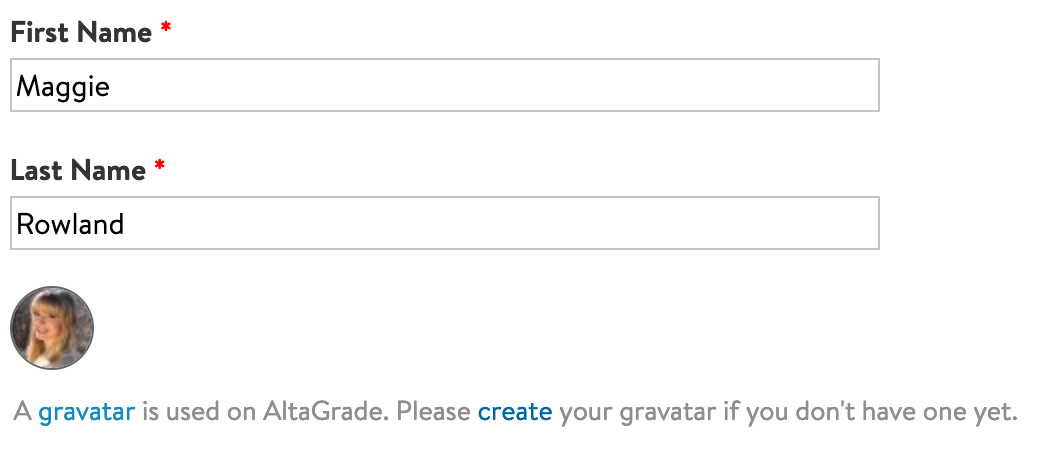 Gravatar
Gravatar is a globally recognized picture uploaded once and used worldwide on all the gravatar-enabled websites. We recommend you to create your gravatar in just a couple of minutes and start using it globally, including on your AltaGrade Dashboard.
Contact Information
In this section, please provide your contact information, so if needed we could contact you using various ways at any moment.
Job Title
You can indicate your job title in your organization in this field.
Organization
Please write the name of your organization if you represent one. If you are an individual user, then just omit this field.
Phone
We need your phone number as an alternative contact method just in case if your e-mail is not reachable.
E-mail address
This field contains your default e-mail address, which is greyed out, because e-mails are managed on a separate page. Please click on the E-mail addresses link in the description of the field as shown on the below screenshot.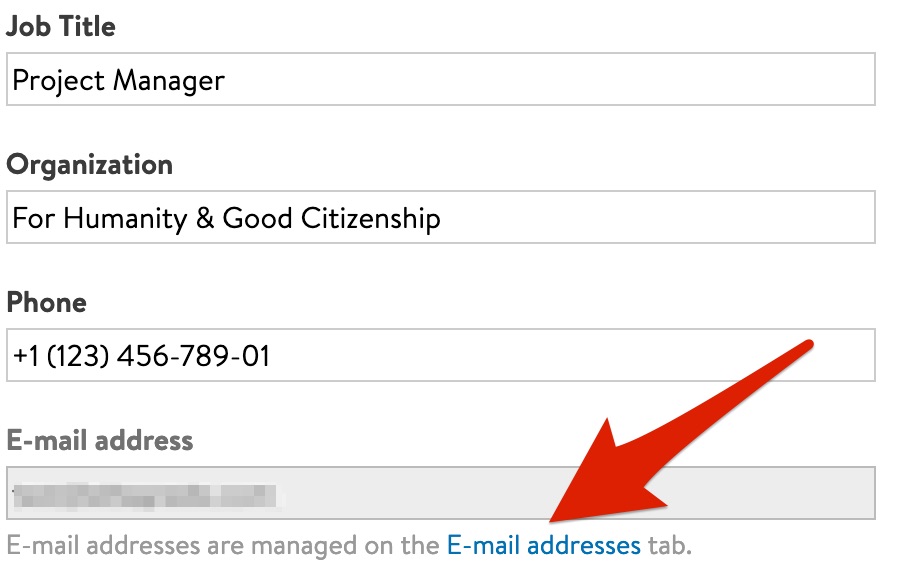 Clicking on the E-mail addresses link will take you to another page, where you can view and manage the list your e-mail addresses.
If you add a new e-mail address, then you need to confirm it by providing a confirmation code in the sent e-mail message. After you confirm your new e-mail address, you can set it as the primary contact address.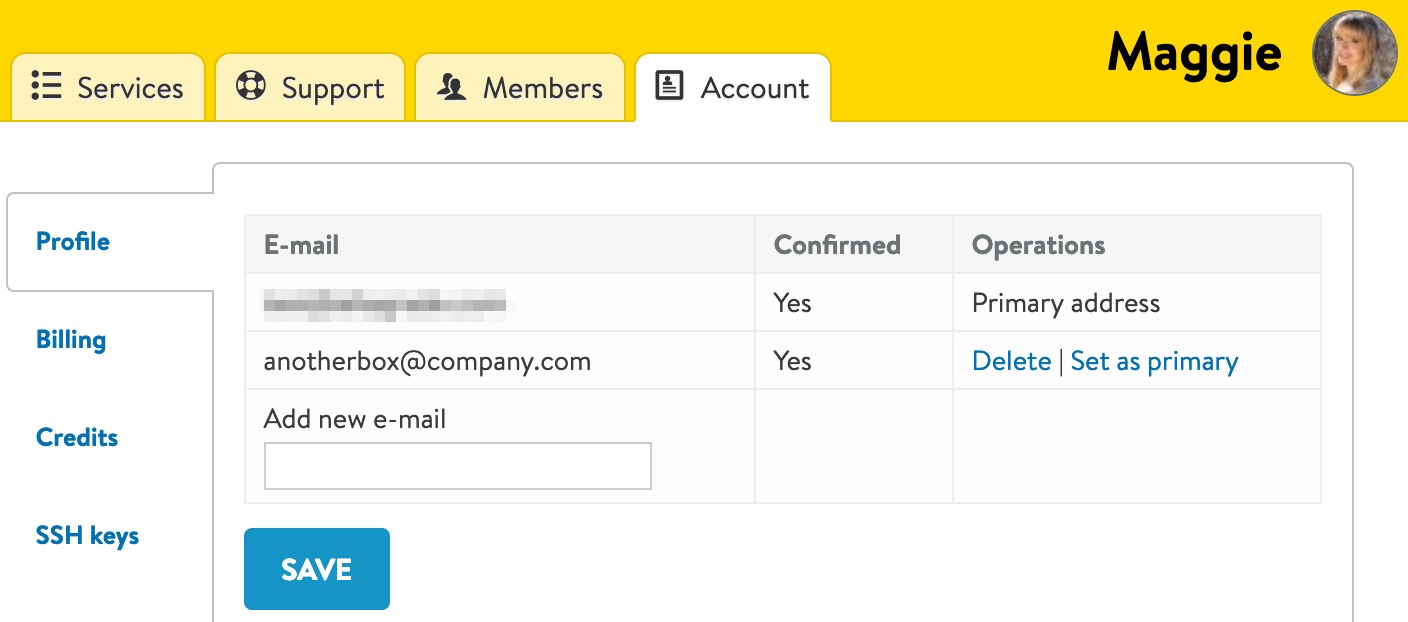 Home Page
Depending on your needs and preferences you can set any of the - Services, Support, Members or Account - tabs as your home page.
You can return to your home page anytime by clicking on the AltaGrade logo in the header, so setting the most frequently used tab as your home page will provide additional comfort when using your AltaGrade Dashboard.

Receive Invoices via E-mail
You can find the invoiced for your account on and download them from the Account > Billing page at any time, however if you also want to receive them in PDF-formats on their due dates, then you can check on this box.
Billing
You can re-visit the Account > Billing page at any time to find the list of your account's invoices for all the current and past years, view their details or download them in PDF-format.
View Invoice Details
To view the invoice details click on the invoice # listed as the first column as shown in the screenshot below.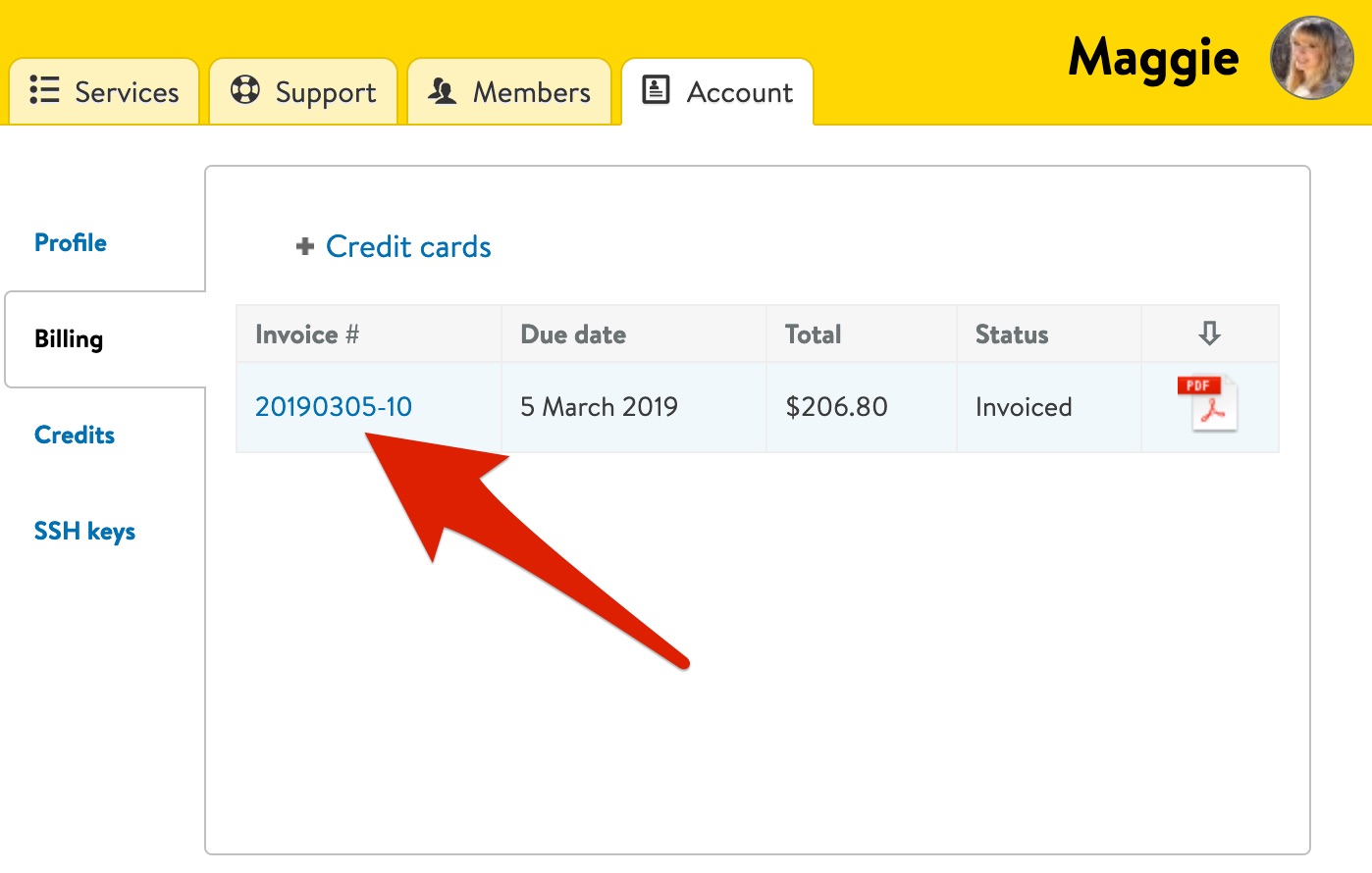 On the invoice page you can see the list of the services, unit prices, quantities and totals charged. In the right lower corner of the table you will find the invoice's subtotal, setup and other additional fees if any, discount amounts and the order total.
Also you will find the billing address and the invoice date on the bottom part of the invoice.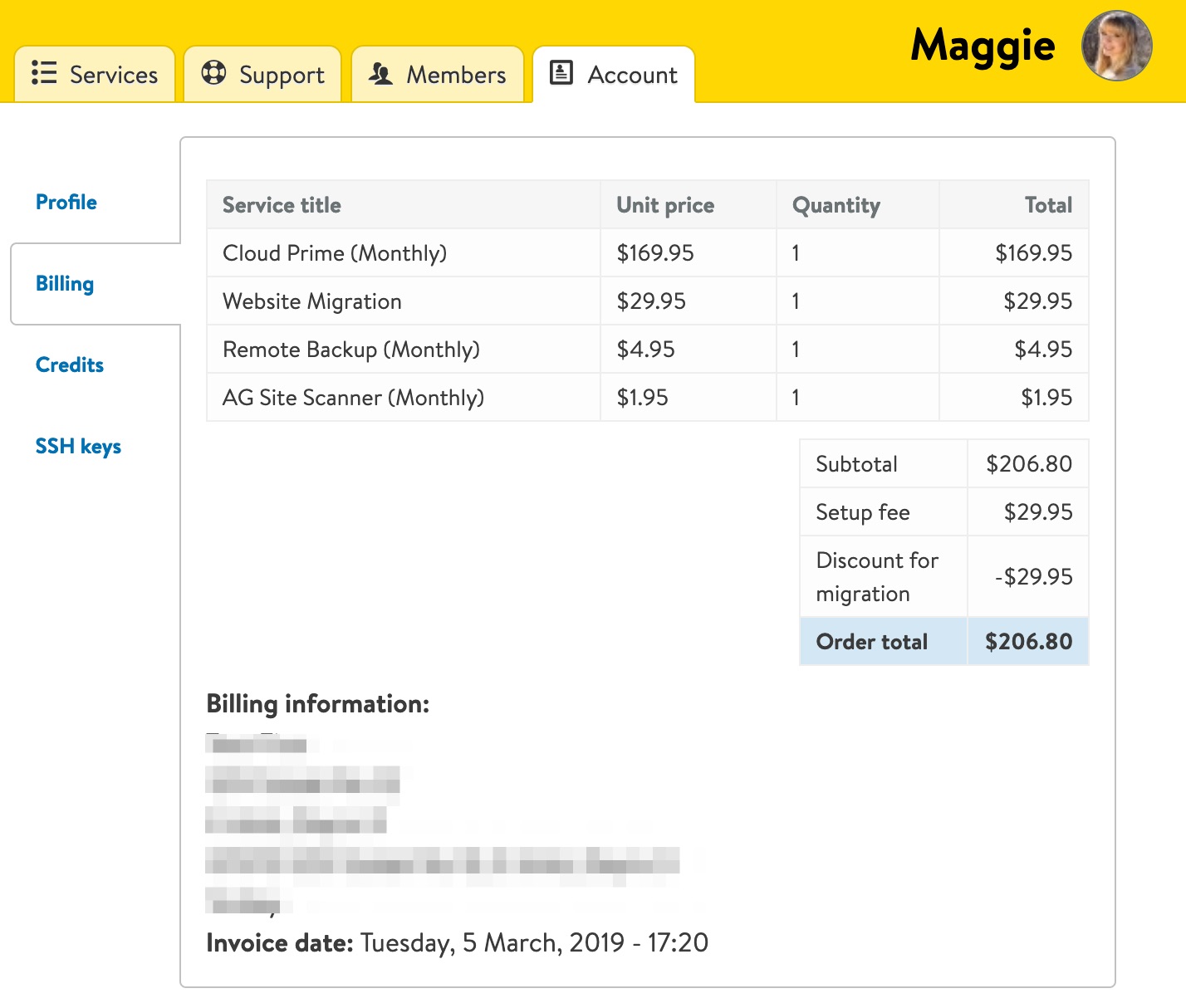 Download Invoices
To download an invoice just click on the PDF icon in the last column of the table as shown on the below example.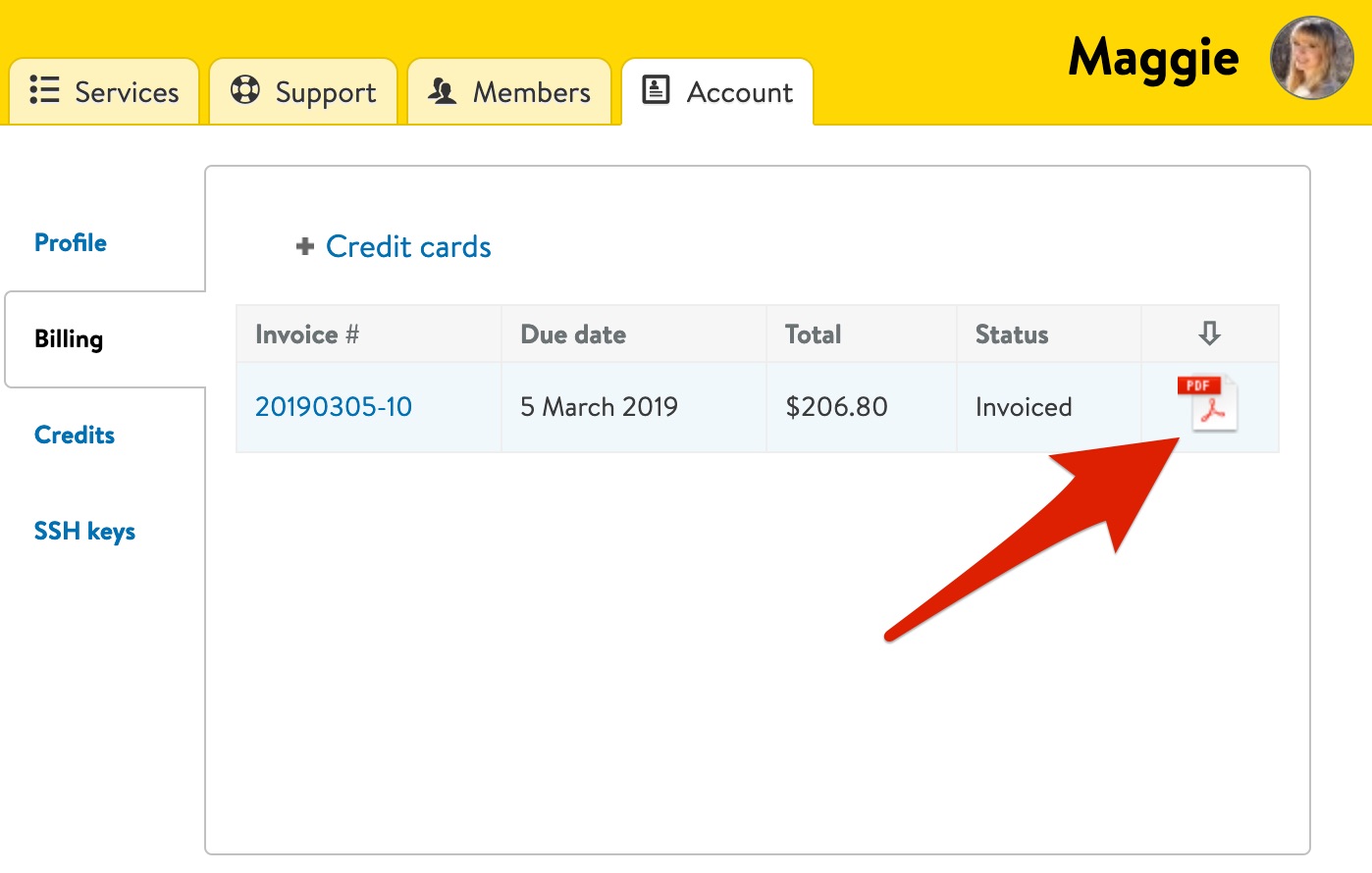 Managing Credit Cards
By clicking on the + Credit cards link on top of the table you can manage the credit cards for your account.
On the next page you will see the list of the credit cards for your account by their last four digits, names on the cards, whether the current crd is default or not and their expiration dates.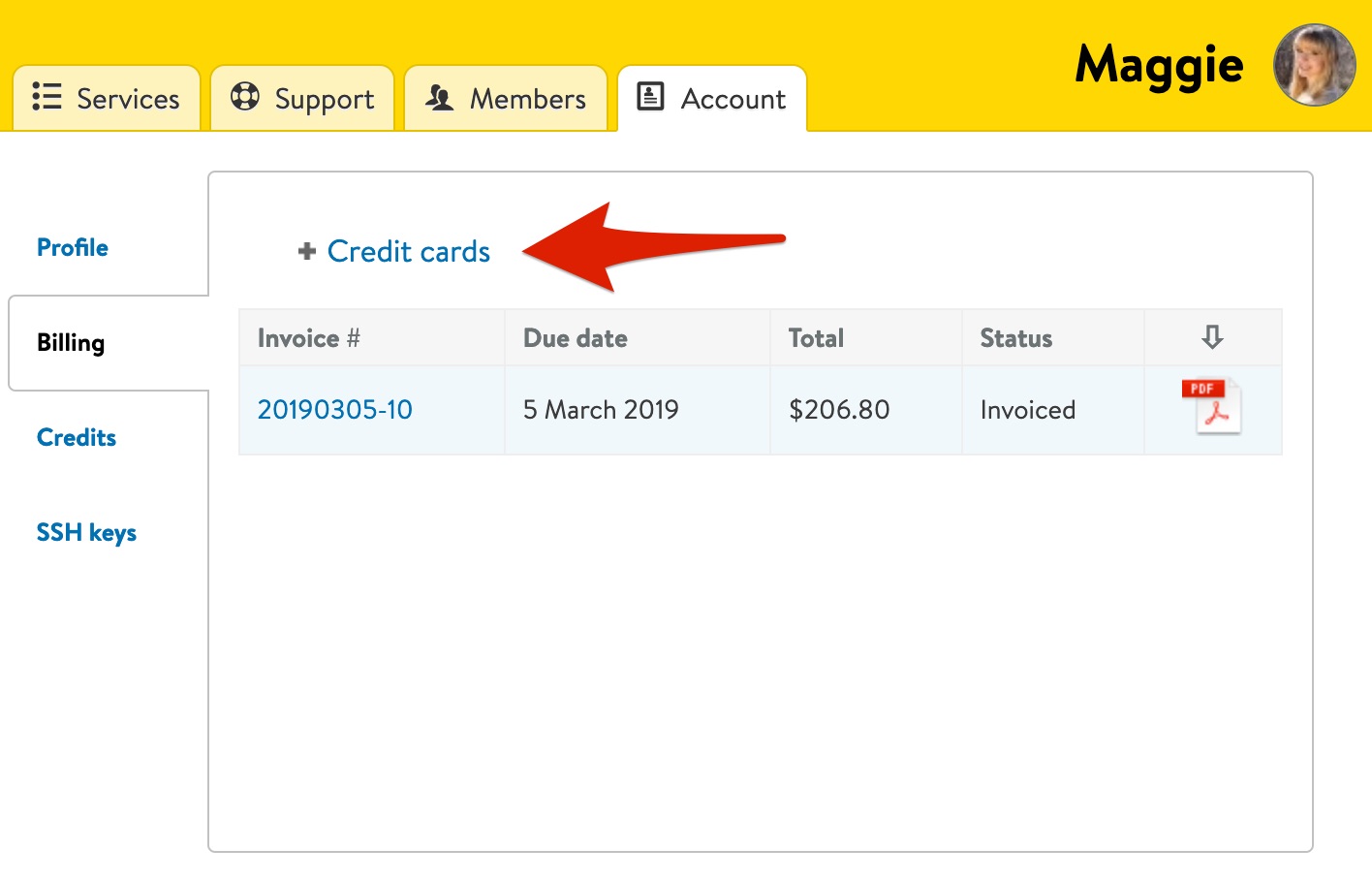 If for any reason you would like to change the default credit card for your account, you can choose another card in the list or just click on +Add a card link on the top of the table and proceed to filling in required form field on the next page.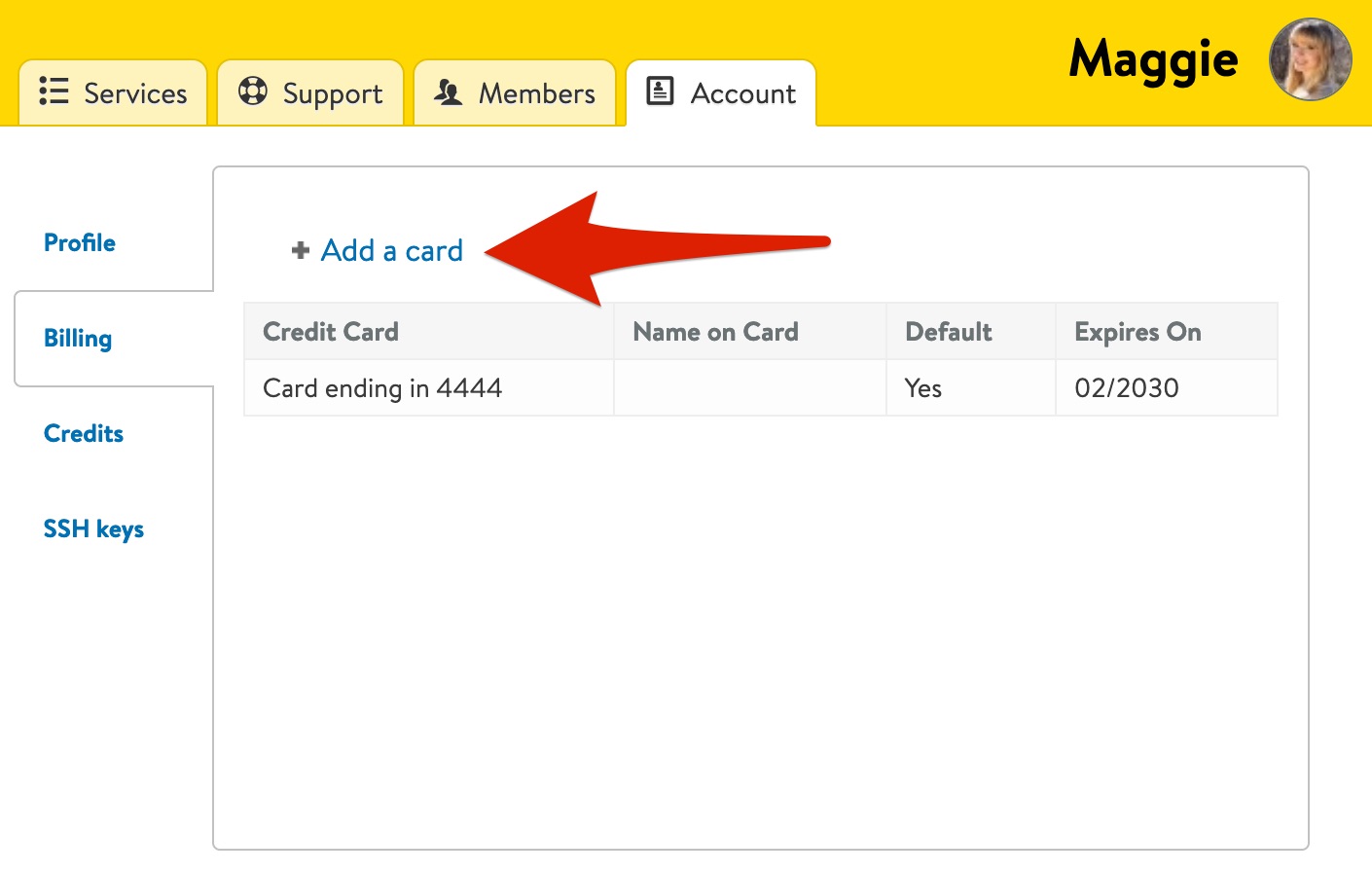 We are accepting all major credit card types except American Express. Please just contact us if you are experiencing difficulties in adding your credit cards to your AltaGrade Dashboard account.
Account Credits
We give gratitude and compensation credits to our customers on number of occasions such as:
Bring AltaGrade new clients
We do not advertise anywhere and get new customers just thanks to viva voice of our happy customer base. So help us grow by bringing AltaGrade new clients and receiving gratitude credits up to $500.00 depending on the referral's subscribed plan.
Blog about AltaGrade
Write a good detailed post about AltaGrade on your personal blog and get back the monthly cost of hosting your plan. Mention us on your social network or post a positive review about AltaGrade on public forums and get $50.00 credit.
Report Platform Issues
We are actively adding new features across the AltaGrade platform including AltaGrade Dashboard and AltaGrade Host and Site Managers. So if you spot and report any error, issue or any kind of other inconsistencies when using AltaGrade platform, then we will give you a $50.00 kudos.
Help Improving Platform
Suggest a new great feature that will improve usability of AltaGrade platform and we will thank you accordingly.
Improve Documentation
AltaGrade Team mostly concentrates on technical issues on the customer servers and the platform, so if you want to mitigate our work-load by contributing to documentation pages, then we will appreciate your help by issuing adequate account credit.
Credits for Proactive Client
Demonstrate any other attitude or initiative that makes AltaGrade, our services and the world better, keep helping us with various issues and tasks and get regular credits!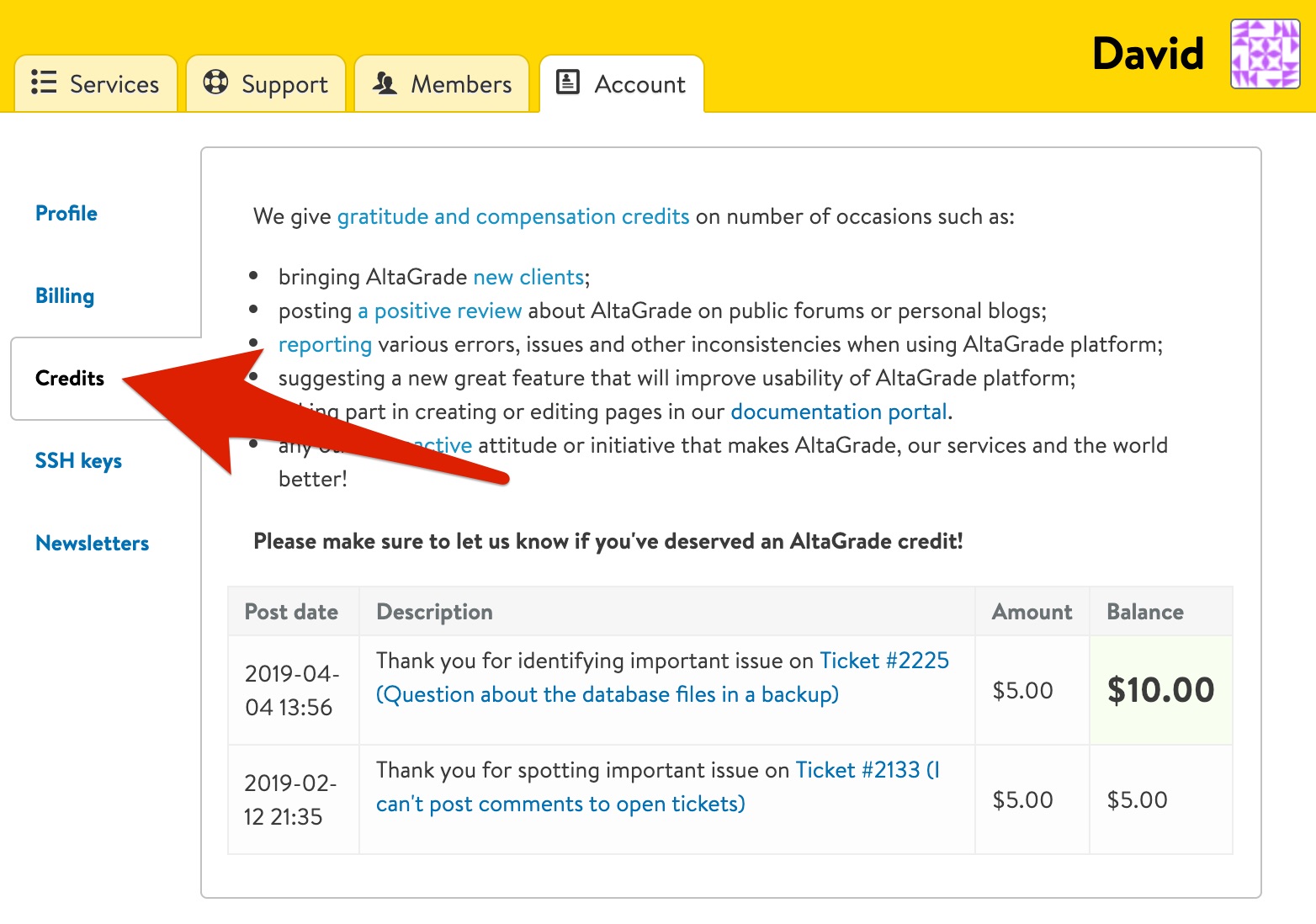 Note that account credits are automatically discounted from the invoice total for the next hosting periods.

SSH Keys
The Account > SSH keys page lists all your public keys added to gain automatic passwordless access to your AltaGrade hosting accounts. To add a new key just click on the + Add a public key button on the top of the table.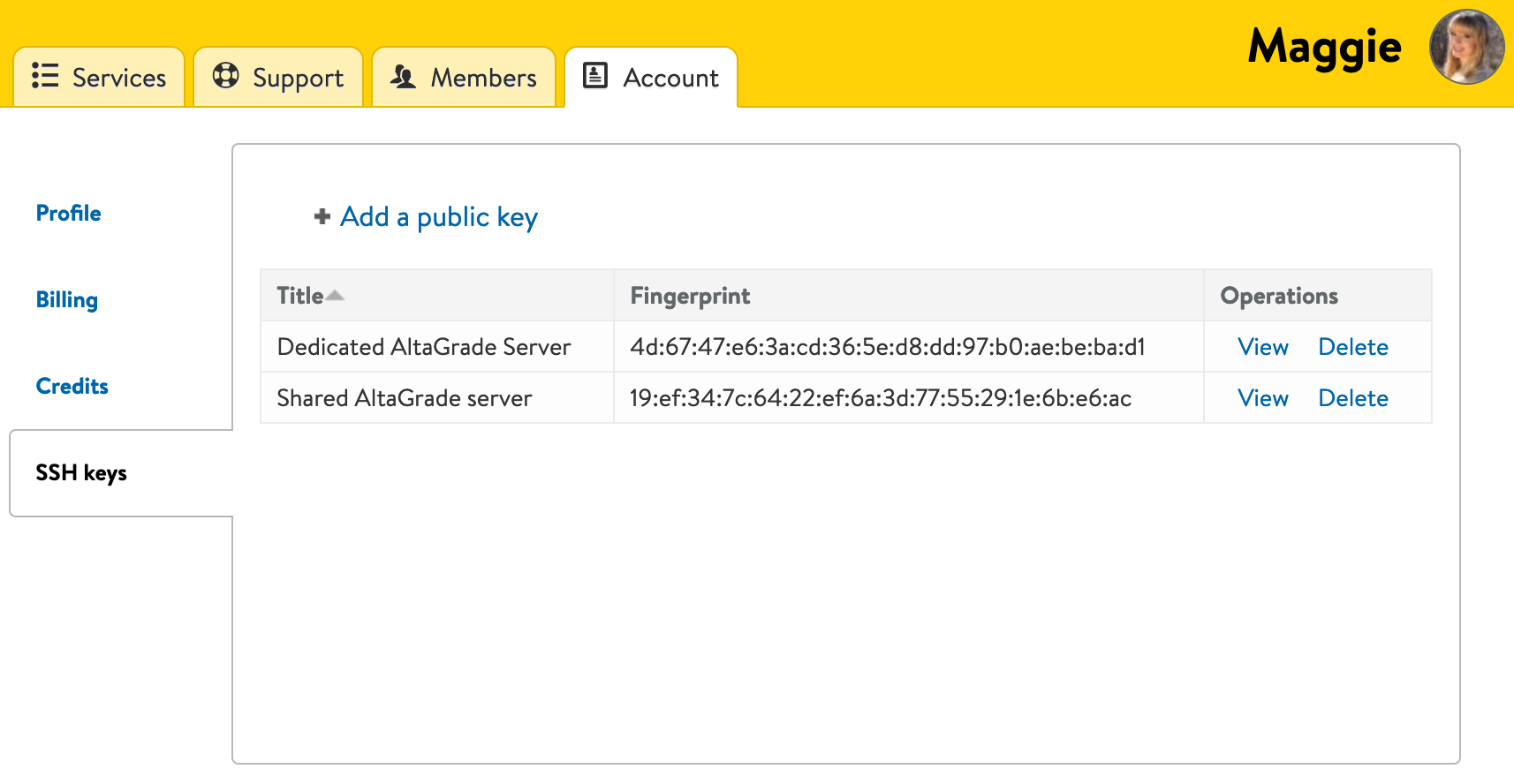 Because one customer can have to multiple number of active servers and because their staff-members can have various access levels, AltaGrade Team needs to verify your request. After adding your public key a respective request ticket is created automatically, so we could finish the verification process.
Once AltaGrade support team has configured the requested access, you can access your AltaGrade hosting account without manually entering your passwords.
Newsletters
On the Account > Newsletter page you can manage your subscriptions to various AltaGrade newsletters.
To be always informed of the company news, important announcements, security alerts and interesting blog posts, we recommend to keep all your subscriptions active.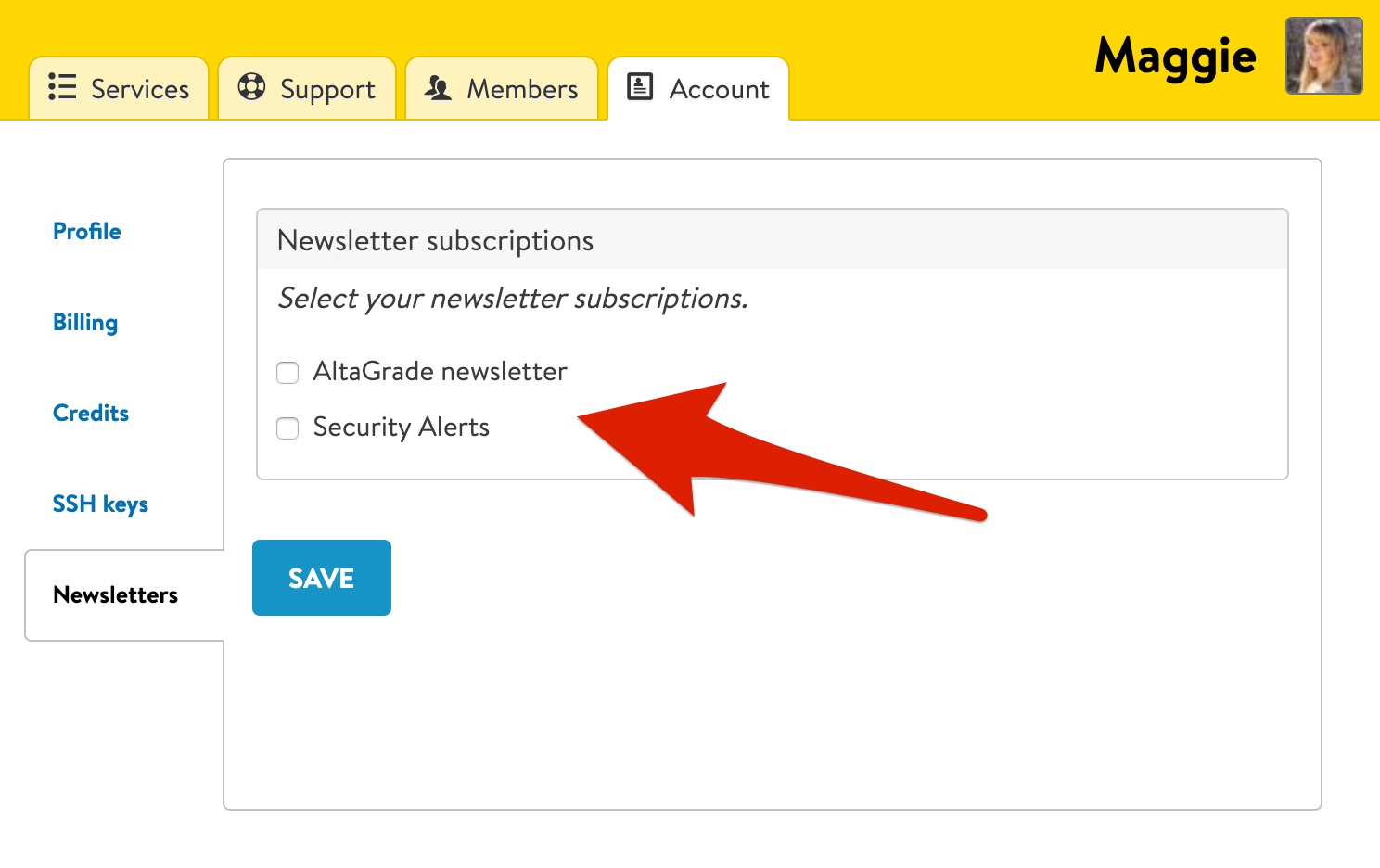 However, depending on your personal preferences or your role in your organization you may safely sign off from any newsletter. For example, if you represent your organization in non-technical matters, then you can unsubscribe from the Security Alerts, letting other technical members of your team follow the newsletter.
Unregistered prospective customers can manage their subscriptions for AltaGrade newsletters on the https://www.altagrade.com/newsletter/subscriptions page.