Learn how to use the AltaGrade Dashboard to manage your subscriptions for hosting plans and other add-on services.
The Services tab lists hosting plans and add-on services you are currently signed up for or had been signed up for in the past.
List of Services
The currently active services are listed by default. To see the cancelled, processed or postponed services, check on the respective filter boxes in the header section of the table.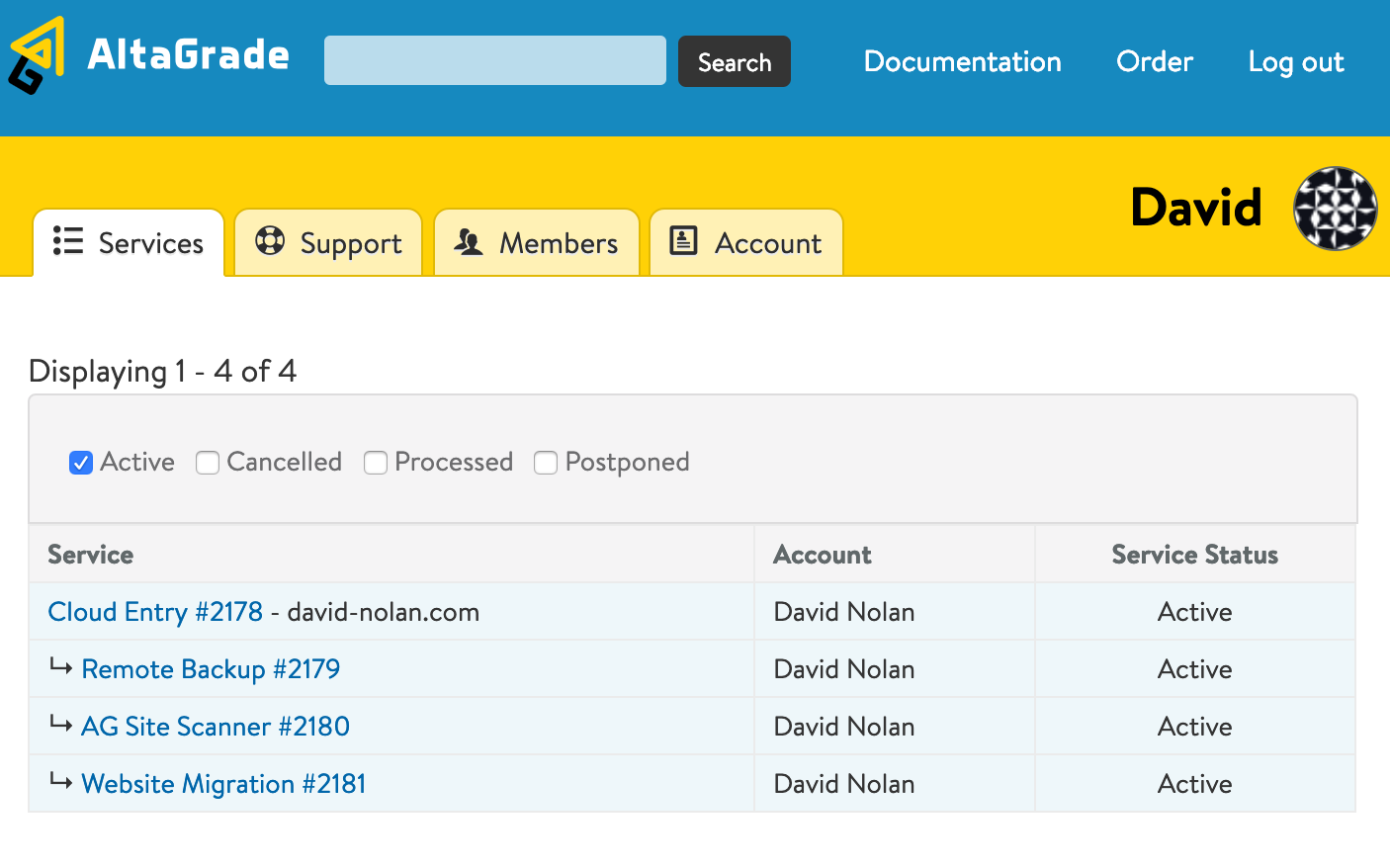 Parent Services
Typically, parent service items are the hosting plans for which you are subscribed.
You can have multiple parent services - shared, cloud or dedicated servers - on the same account.
If you do not have any active hosting plan, then a standalone service such as a domain name registration can be listed as the parent service.
Parent services are listed without indentations, with the main domain name and IP address of your AltaGrade hosting account.
Add-on Services
Add-on service items are services such as remote backup, website migration, domain name, etc. which come bundled to your hosting plan or which can be ordered separately anytime.
Add-on services are listed in the table of services with ↳ signs in front of their names.
Parent Service Page
Clicking on a parent service item in the Services table opens a new page, where you can find service details and specifications, access information, service log and action links for creating new tickets, adding new add-on services, upgrading, downgrading or cancelling the service.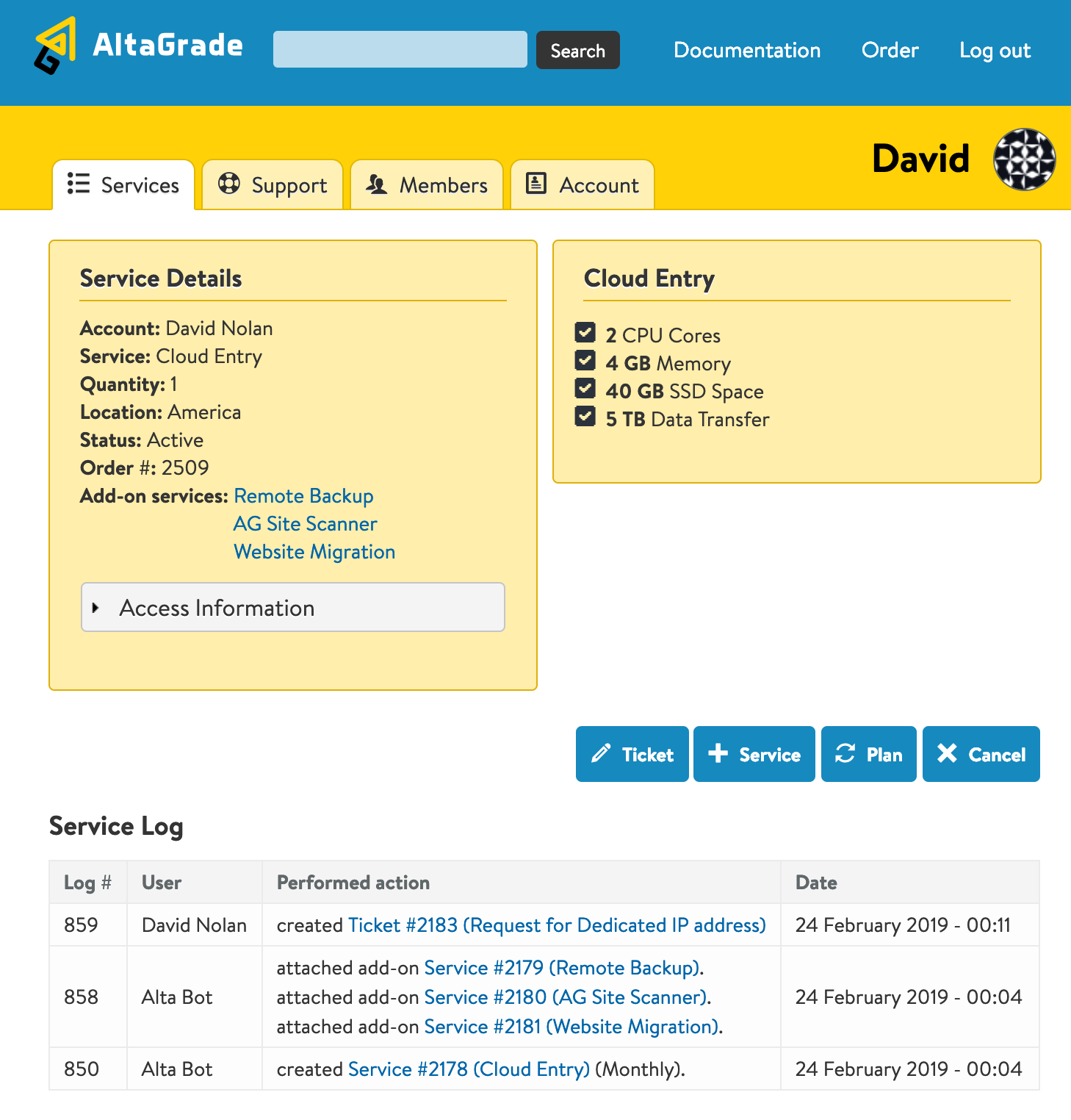 Service Details
The Service Details block on the left part of the main section provides such information as Service Account, Service Name, Quantity, Geographical Location, Service Status, Order #, associated add-on services and collapsed block of access information.
Access Information
To find access information expand the collapsible Access Information link under the Service Details. Inside the Access Information section you will find the link to your AltaGrade server's control panel, hostname, IP address, your master username, secure port and available connection protocols.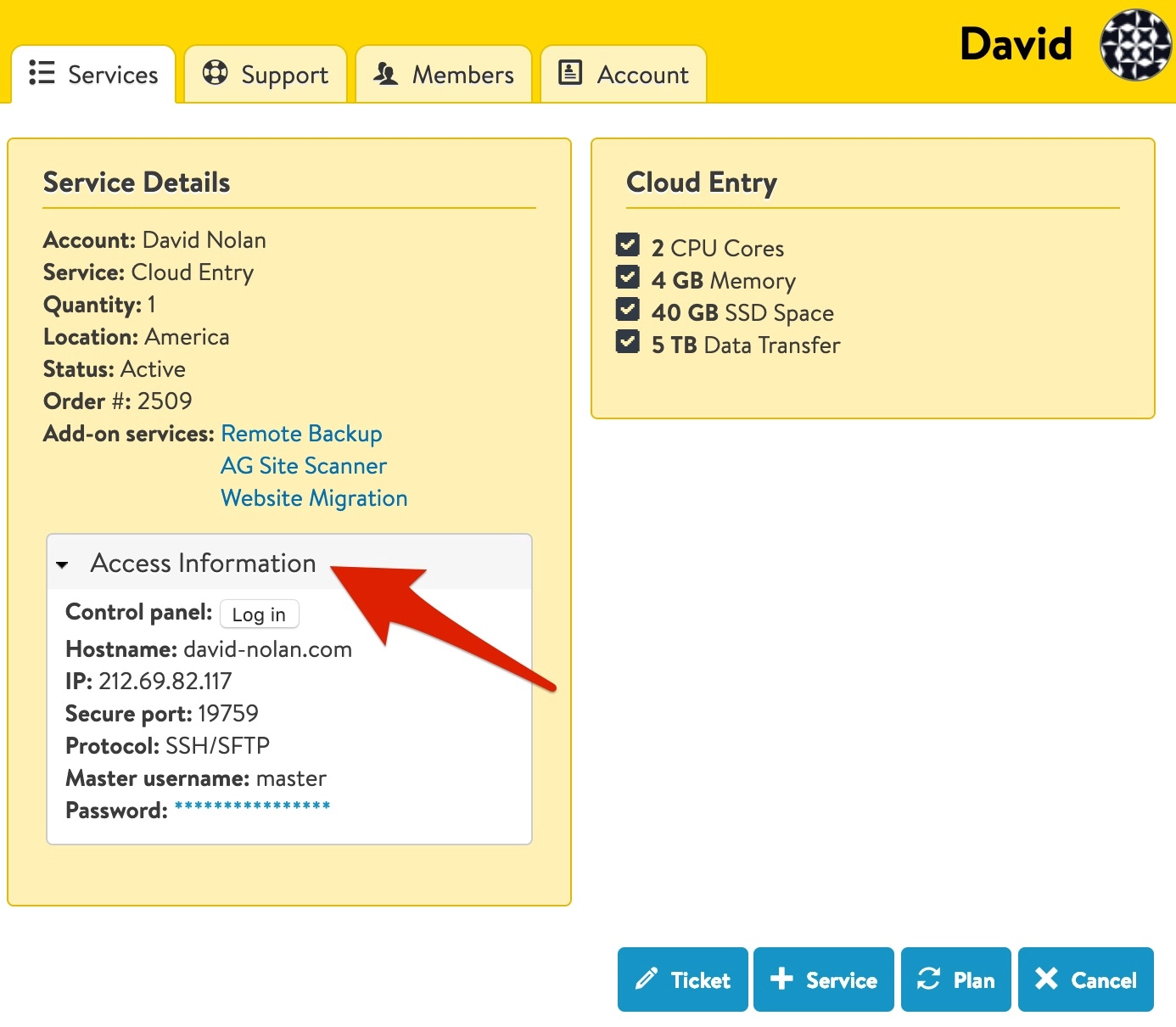 We use authentication method without entering a password for both control panel and SSH/SFTP/GIT access.
Control Panel
Just click on Log In button to enter your AltaGrade server's control panel. Please note cookies must be enabled for the passwordless control panel authentication to work properly.
Read https://www.altagrade.com/help/control-panel for the detailed information on how to use your control panel.
SSF/SFTP, GIT
Please read the Connect to AltaGrade help page to understand how to use SSH, SFTP or GIT in order to access your AltaGrade server.
Service Specifications
Just to the right of the Service Details, you can find the service specifications block which provides information on the name of the hosting plan, CPU, RAM, storage space and monthly data transfer allocated to the service.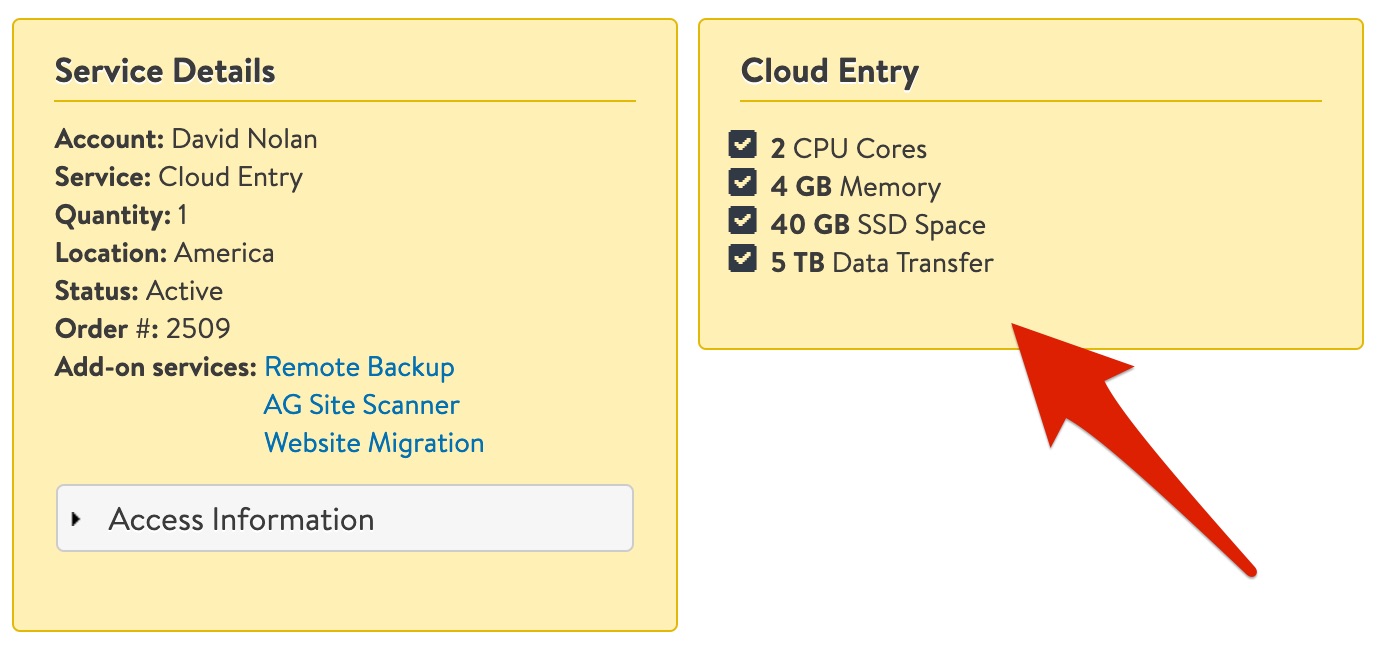 Note that the information given in this section is the minimal hosting plan specifications officially advertised on our main page at https://www.altagrade.com and that in reality the technical specifications, especially for dedicated servers, might slightly differ depending on the availably of our hardware pool at the moment of subscription.
The good news is that if there is such a discrepancy, then it is always in favor of our customers' interest - we usually provide more resources than you are officially subscribed and paying for.
Action Buttons
The action buttons are located just below the Service Details and Service Specifications bocks. You can click on the action buttons to proceed to the respective pages to create tickets, order additional services, upgrade/downgrade or cancel hosting plans.
Create Ticket
You can request technical support or send your billing and sales questions by creating tickets for your own account or accounts of other users if you are an invited member of their teams.
Please find the detailed information on how to create new tickets on the Support page documentation.
Add Service
Clicking on + Service button on the hosting plan page takes to the Order add-on service page, where you can select an add-on service and quantity you would like to order and click on submit button.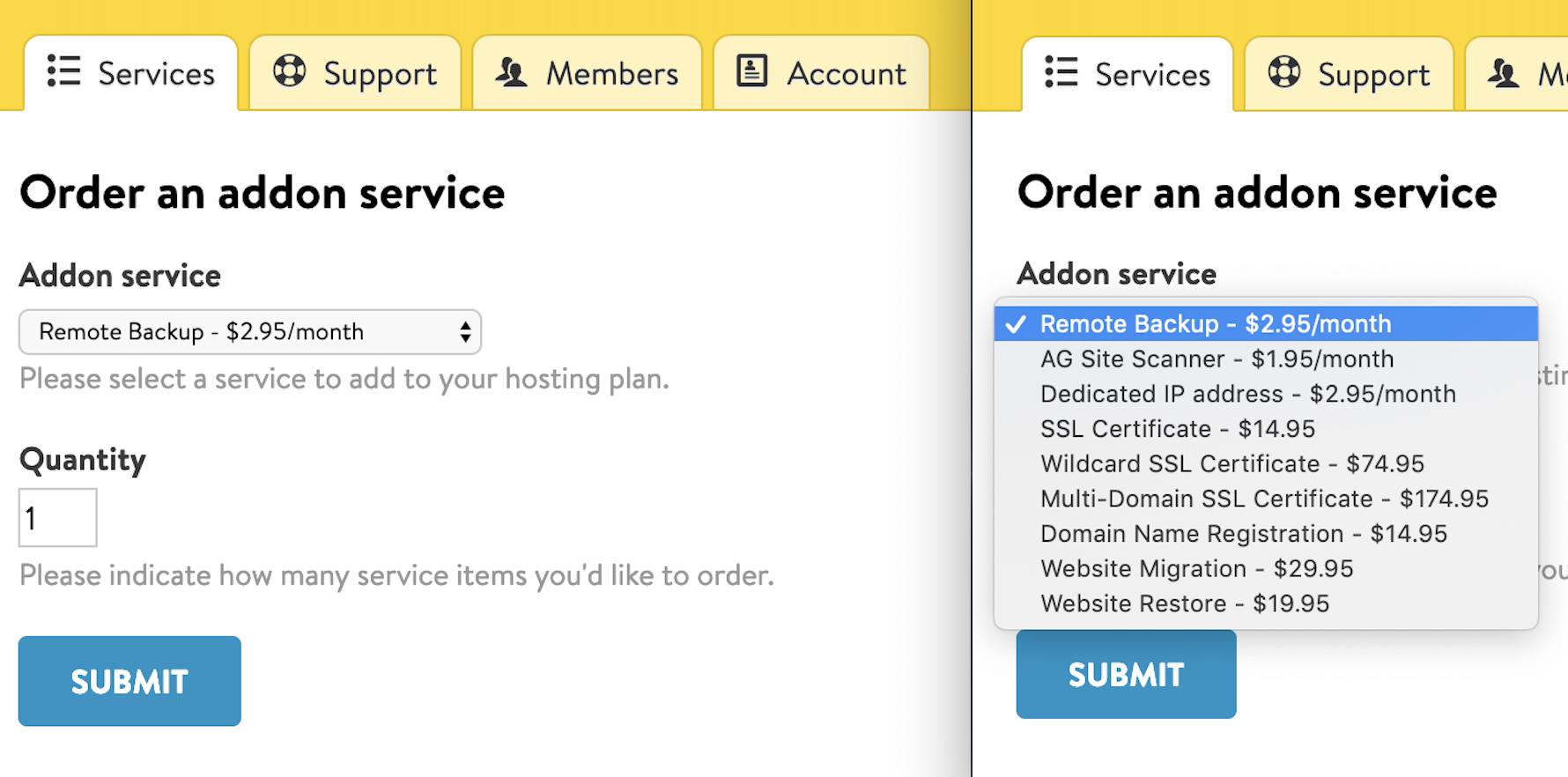 Clicking a drop-down selection field will show all the add-on services available at the moment together with their pricing. However, please note that our additionally-paid services are not limited to what is listed in this selection field, so if you need something that is not listed, then please just let us know by creating a ticket.
Change Plan
To upgrade or downgrade your current hosting plan just click on the ⟳ Plan button and it will take you to the next page, where you can select a new desired plan and also change the billing cycle.

Please note that we give %5, 10% and 15% off the hosting plan's price for quarterly, biannually and annually paid services. So it is in your own interests to choose the longer billing cycle.
Cancel Service
Clicking on the Cancel button will create a 30-day preliminary cancellation notice, which is required by our Terms of Services. Please make sure to download all the necessary data within the 30-day cancellation period as after that your hosting account will be completely purged.
Service Log
Parent service page has the Service Log section where you can track all the history and actions performed with regard to the service.

Add-on Service
Unlike Parent Service page the Add-on Service page has fewer information listed. Under the Service Details it provides the details of the add-on service with the referenced Parent Service link. Also there are only two action buttons: for creating new tickets and cancelling the add-on service.
Add-on service page has the Service Log section where you can track all the history and actions performed with regard to the service.